Scattered along British Columbia's in­side coastal wa­ters lay sev­er­al col­lec­tions of bro­ken and rust­ed ships' hulls. Many of these ves­sels had dis­tin­guished ca­reers as war­ships, steam tugs, and Cape Horn wind­jam­mers. In a way, it is sad to look out over their bro­ken re­mains and see them all so rot­ted away. Yet it is some con­so­la­tion that they still serve a use­ful role as mon­u­ments to our West Coast's rich mar­itime her­itage. So how did they end up aban­doned and left to be for­got­ten from as far back as the 1930s?
Here along the BC coast, tim­ber har­vest­ing com­pa­nies usu­al­ly dumped their logs into salt­wa­ter to be sort­ed and bun­dled into booms for tow­ing off to sawmills or pulp and paper mills. Normally the com­pa­nies chose pro­tect­ed coves or in­lets for their log dumps but, on oc­ca­sion, they were forced to op­er­ate in areas ex­posed to foul weath­er and strong winds. Logging out­fits work­ing out of Kelsey Bay and Royston along the in­side wa­ters of Vancouver Island, as well as Powell River over on the B.C. main­land, all used the stripped hulls of re­tired ships for pro­tec­tive breakwaters.
At Royston, lo­cat­ed across the bay from the town of Comox, lies one of the most var­ied and un­usu­al of these sites. It in­cludes craft from the van­ished days of com­mer­cial sail: a five-mast­ed barken­tine, a five-mast­ed aux­il­iary schooner, along with three Cape Horn wind­jam­mers. Amongst its col­lec­tion of steam and motor ships are four Royal Canadian Navy war­ships that saw ser­vice in the 2nd World War, two whalers, two Canadian Pacific Railway tugs, along with a deep-sea res­cue tug and de­stroy­er of the United States Navy that served in World War I. Together, these hulks rep­re­sent a fas­ci­nat­ing cross-sec­tion of West Coast mar­itime history.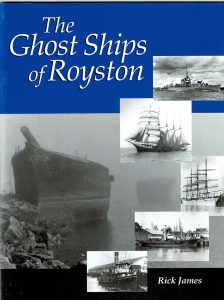 In 2004, the Underwater Archaeological Society of British Columbia pub­lished a com­pre­hen­sive his­tor­i­cal re­port on the grave­yard ti­tled The Ghost Ships of Royston in recog­ni­tion of the sig­nif­i­cance of the site ir­re­gard­less that all the ves­sels were ac­tu­al­ly beached hulks. Then in March 2011, a team from the UASBC and the U.S. based Institute of Nautical Archaeology con­duct­ed a se­ries of ex­plorato­ry dives and sur­veyed and mapped the graveyard's remains.
Soon af­ter­wards, the "Royston Wrecks" were as­signed pro­tec­tion under the British Columbia Heritage Conservation Act there­by de­clar­ing it to be a reg­is­tered ar­chae­o­log­i­cal site. This makes it il­le­gal for scav­engers to take any sou­venirs from the ships, while at the same time en­sures that the hulks main­tain their in­tegri­ty as best as pos­si­ble, which will allow fur­ther re­search and, more im­por­tant­ly, to con­tin­ue on as an old ship grave­yard to be ad­mired by the public.
To order a copy of Ghost Ships of Royston, as well as other Underwater Archaeological Society of B.C. pub­li­ca­tions, visit their web­site. Also, an­oth­er book of in­ter­est is Hulks: The Breakwater Ships of Powell River which doc­u­ments the his­to­ries of the 19 ships that were used to form a float­ing break­wa­ter to pro­tect Powell River's big pulp and paper mill's log pond. This thor­ough­ly re­searched pub­li­ca­tion, writ­ten by John Campbell a third gen­er­a­tion Powell Riverite, can be or­dered through Amazon.