Banner image: The purpose built launch Skeezix, with her fine yacht lines and fast hull, under power off Rum Row, Mexico, early 1930s.  credit:  Fraser Miles collection
West Coast Rum Running illustrated presentations:
Events 2020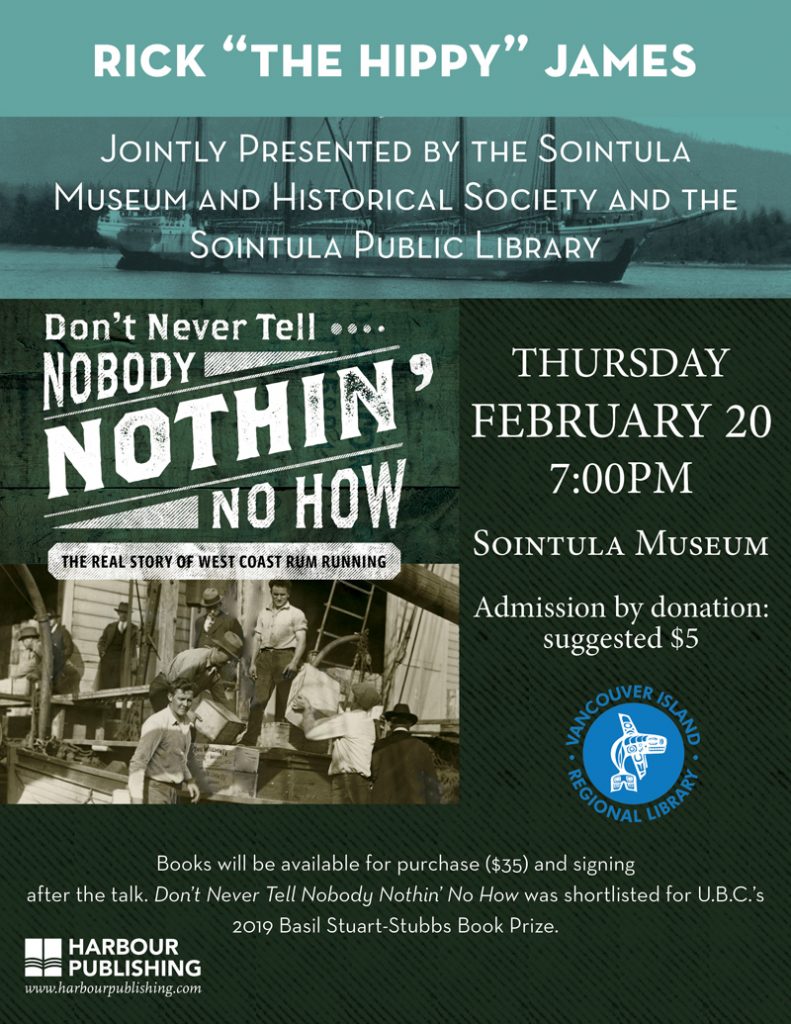 Events 2019
Sidney and North Saanich Inlet Yacht Club
January 24, 2019
1949 North Saanich Way,
North Saanich, BC
Buffet at 6:00 pm $30, talk at 7:15 pm
Reservations: 250-656-4600
Courtenay and District Museum
April 16, 2019, 7 pm
Copies of Don't Never Tell Nobody Nothin' No How will be available for purchase ($32.95, Harbour Publishing) and signing after the talk.
Admission to the evening is $5 per Historical Society member; $6 non-members (plus GST). Advance tickets recommended.
The Courtenay and District Museum is located at 207 Fourth Street in downtown Courtenay. FMI: 250-334-0686 ext. 5.
PowerPoint Presentation hosted by the
Tahsis Literary Society
June 6, 2019, 7 pm
Senior's Centre, 299 Alpine View, Tahsis
Tea, coffee and cookies
Victoria Historical Society
October 24, 2019, 7:30 pm
James Bay New Horizons Hall, 234 Menzies St., Victoria
Events 2018
Maritime Museum of British Columbia
November 1, 2018   5 p.m. to 7 p.m.
634 Humboldt St., Victoria, B.C.
Vancouver Maritime Museum
November 4, 2018  2:30 p.m.
1905 Ogden Ave., Vancouver, B.C.
Clayoquot Sound Community Theatre
November 14, 2018  7:00 p.m.
380 Campbell Street, Tofino, B.C.
Port Alberni Heritage Society
November 15, 2018   7:00 p.m.
Dogwood Room, Echo Centre, 4255 Wallace St.
Port Alberni, B.C.