Queen of Rum Row? The five masted auxiliary lumber schooner Malahat
– Oil painting by W. McMurray, 1989
Courtesy of Vancouver Maritime Museum collection #2004.0105.0001
Don't Never Tell Nobody
Nothin' Nohow:
The Real Story of West Coast Rum Running
Captain Charles Hudson who served as Marine Superintendent Manager, or "shore captain," of Consolidated Exporters, the big liquor export consortium working out of Burrard Inlet, claimed that while prohibition was underway throughout the U.S., the local rum running trade proved to be the economic saviour of the city of Vancouver. As he told oral historian Imbert Orchard, "We operated perfectly legally. We considered ourselves philanthropists! We supplied good liquor to poor thirsty Americans … and brought prosperity back to the Harbour of Vancouver which was in the midst of a real depression, with logging, fishing, mining, etc. in the doldrums. It took rum running to keep industry going, especially on the waterfront. The tremendous moneys paid out to industry in Vancouver were never known to the average citizen. We spent a fabulous amount of money building boats; purchasing and overhauling engines; buying food and supplies for our ships; using the shipyards for overhaul and in wages for the crew and fuel."
And here's Captain Charles Hudson to explain how it all worked himself.
Audio credit: Hudson, Captain Charles. Rum-running interviews: tape 1. Sound Records: Ron Burton interviews: T4407:0001; Imbert Orchard 196? interview: T4255:0039. British Columbia Archives and Record Services
Harbour Publishing, Fall 2018 release
70 photographs and maps
Shortlisted by the University of British Columbia Library and Pacific Bookworld News Society for the annual Basil Stuart-Stubbs Prize for Outstanding Scholarly Book on British Columbia.
Canadian Nautical Research Society Keith Matthews award for books Deserving Special Recognition.

Gold Medal in the History Category: Independent Publishers Book Awards, U.S.A.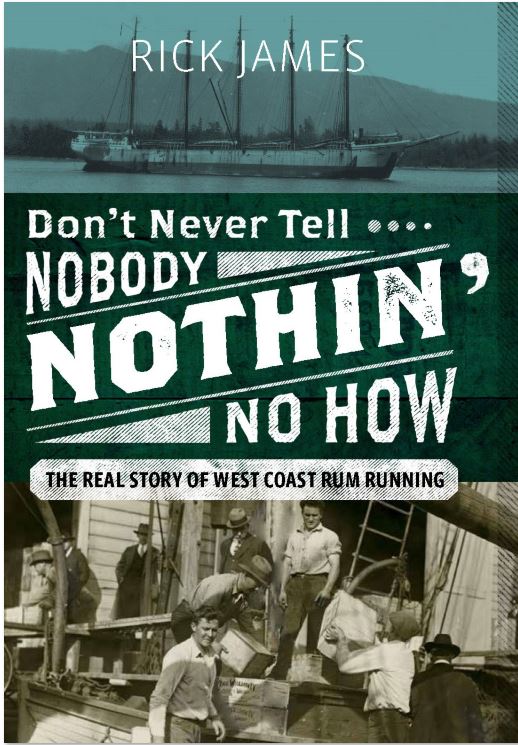 Don't Never Tell Nobody
Nothin' Nohow:
The Real Story of West Coast Rum Running
At the stroke of one minute past midnight, January 17, 1920, the National Prohibition Act, the Volstead Act, was officially declared in effect throughout the United States of America. From 1920 to 1933 the manufacture, sale, importation and transportation of alcohol remained illegal. Prohibition had already proved a bust in British Columbia so it didn't take long before fleets of vessels, from weather-beaten old fish boats to large ocean-going steamers, began filling their holds with liquor to deliver their much-valued cargo to their thirsty neighbours to the south.
Using first-hand accounts of old-time rum-runners and extensive research relying on both primary and secondary documentation and the often sensational newspaper coverage of the day, Don't Never Tell Nobody Nothin' No How explains what really went down along the west coast of North America during the Yanks "Noble Experiment." Contrary to popular perception, rum running along the Pacific coast wasn't dominated by violent and sensational encounters like those portrayed on T.V. or in the movies. Instead, it was generally carried out in a relatively civilized manner, with an oh-so-Canadian politeness by British Columbia based operators. Indeed, most involved in the trade operated well within the law. But still, there were the odd shootout, hijacking and even a particularly gruesome murder associated with the business.
Advance Praise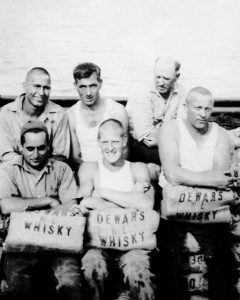 "It's high time that a meticulously researched book on rum running was written and Rick James has skillfully created the definitive work which both entertains and acts as a solid historical reference…It's a delight to read."
~ John MacFarlane, director, The Nauticapedia Project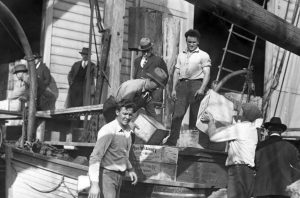 "Writer, shipwreck researcher and historian Rick James opens a new chapter in maritime history with this insider's view of the men and ships that spurred B.C. into a lead role as booze supplier to thirsty prohibition-bound Americans. James follows the trail of rum and money from the boardrooms of Vancouver's shipping companies to the floating islands of liquor anchored off Oregon and California. Along the way, fortunes are made and governments topple. A stirring adventure, from start to finish."
~ David Rahn, publisher, Western Mariner: The Magazine of the Coast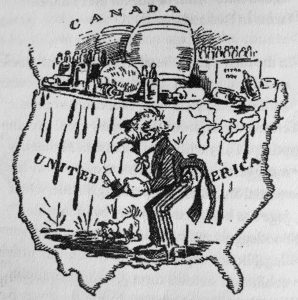 "Rick James is a master storyteller…He has written a book many thought could never be written. In doing so, he brings a colourful 'wet' bit of maritime history to life."
~ James Delgado, author and former director, Vancouver Maritime Museum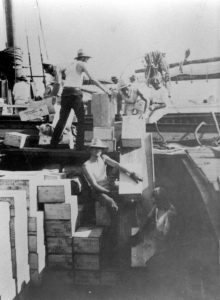 "James, who has a few smuggling adventures of his own…portrays the mariners and businessmen investors in Canadian rum-running enterprises on the Pacific coast as far less violent and mob connected than their American colleagues. Whether or not readers are persuaded by this account of relative Canadian innocence, they are sure to enjoy this engaging slice of true crime history on the Pacific coast."
~ Tom Sandborn book review, Vancouver Sun, September 8, 2018
Print editions
Available in Canada October 2018
Available in the USA March 2019
Ebooks
Available in Canada October 2018
Internationally March 2019
Don't Never Tell Nobody Nothin' Nohow: The Real Story of West Coast Rum Running can be ordered at bookstores throughout Canada and the USA
It can also be ordered from Indigo, amazon.ca and amazon.com
If you'd like an autographed copy, feel free to contact Rick.
Ebooks can be ordered from Amazon (Kindle)