Banner image: 'Looking across the stern of the four mast­ed bar­que Comet launched in Port Glasgow, Scotland, in 1891 to the stern of the three mast­ed ship Melanope launched in Liverpool, England, in 1876.' Royston, B.C. 2010. John Pollack photo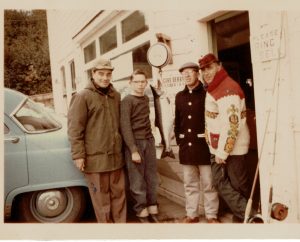 Rick James is a writer, mar­itime his­to­ri­an, and pho­tog­ra­ph­er. Many peo­ple rec­og­nize him from his role in The Sea Hunters doc­u­men­tary Malahat: Queen of the Rum Runners, which aired on Canada's History chan­nel. Rick grew up in Victoria, one of the most beau­ti­ful port cities any­where on the plan­et, which Sir James Douglas de­scribed as a per­fect "Eden" what with its open Garry oak mead­ow­lands which stood out in sharp con­trast to our often wet and drea­ry north­west coast. Of course, liv­ing right be­side a wa­tery Paradise, he ended up spend­ing many a week­end with his Dad sports fish­ing out in the fam­i­ly clink­er built run­about June Bug in his young years.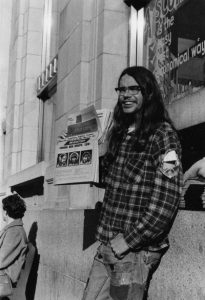 Then in 1976, when fi­nal­ly out on his own, he was liv­ing in Sointula up off the north end of Vancouver Island as a treeplanter when he also land­ed a job as a deck­hand on seine boats out after Fraser River salmon in Johnstone Straits. He says that back in those days the in­dus­try was ab­solute­ly boom­ing and that they were even grab­bing hip­pie long­hairs right off the dock to crew their boats. As a re­sult, over a pe­ri­od of ten years he got to ex­pe­ri­ence some of the best sock­eye years on the coast.
Then after he met up with his part­ner, au­thor Paula Wild, in Sointula, she en­cour­aged him to quit talk­ing about want­i­ng to write all the time and just set him­self down in front of his com­put­er and get on with it. Then in 1985, after mov­ing down to Fanny Bay on Vancouver Island, he soon be­came to­tal­ly ob­sessed with re­search­ing and writ­ing about West Coast mar­itime his­to­ry. His first major project was iden­ti­fy­ing the 15 derelict hulks that were sank and used for Comox Logging & Railway company's boom­ing grounds break­wa­ter in Royston, and re­search­ing the fas­ci­nat­ing his­to­ry of its col­lec­tion of World War II R.C.N. frigates, Cape Horn wind­jam­mers, lum­ber schooners and old steam tugs.
Rick's work has been pub­lished in nu­mer­ous pe­ri­od­i­cals in­clud­ing The Beaver: Canada's History Magazine, The Sea Chest: Journal of the Puget Sound Maritime Historical Society, Pacific Yachting and still con­tin­ues on as a 'stringer' for Western Mariner mag­a­zine. Many Victorians will prob­a­bly re­mem­ber his mar­itime his­to­ry tales pub­lished in Victoria Times Colonist Islander mag­a­zine through­out the 1990s. In 2011, a col­lec­tion of a num­ber of his sto­ries that ap­peared in these mag­a­zines as well as the Times Colonist, were pub­lished in Raincoast Chronicles 21: West Coast Wrecks & Other Maritime Tales by Harbour Publishing. He also has served as Paula Wild's in-house as­sis­tant and helped out with the writ­ing, re­search and pho­tog­ra­phy for her pop­u­lar books Sointula: Island Utopia and One River Two Cultures: A History of the Bella Coola Valley.
He is also the au­thor or co-au­thor of a num­ber of pop­u­lar re­ports pub­lished by the Underwater Archaeological Society of British Columbia: Ghost Ships of Royston; Historic Shipwrecks of the Central Coast and Historic Shipwrecks of the Sunshine Coast. This has proved a par­tic­u­lar­ly re­ward­ing re­la­tion­ship since the UASBC is a vol­un­teer, non-prof­it or­ga­ni­za­tion which came to­geth­er in 1975 and re­mains ded­i­cat­ed to the sci­ence of un­der­wa­ter ar­chae­ol­o­gy and to con­serv­ing, pre­serv­ing and pro­tect­ing the mar­itime her­itage lying be­neath our coastal and in­land waters
The var­i­ous re­ports of the Underwater Archaeological Society of B.C., can be or­dered by going to the Publications link on the Society's web­page here.