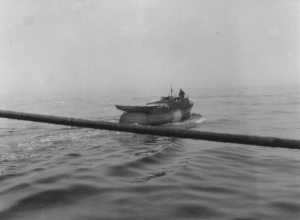 It was only a short time after my rum run­ning book came out that I began being con­tact­ed by folks with more tales to share and tell. I was par­tic­u­lar­ly in­trigued to hear from Susan Ben – Oliel who re­vealed that she and her hus­band were the cur­rent own­ers of Johnny Schnaar's fast pur­pose built 'run­ner Kitnayakwa.
Susan Ben – Oliel said that "there is an in­ter­est­ing story and one word be­hind the ac­qui­si­tion of the Kitnayakwa – my hus­band found it on the Seattle Craigslist! It was ini­tial­ly in bad shape and was partially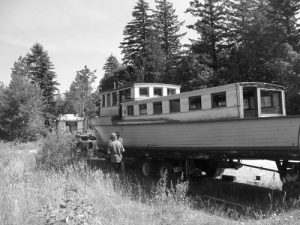 sub­merged when we had it brought up to Canada in July 2009 (on the back of a flatbed truck)" Over time (and much more slow­ly than they would have hoped) they have been try­ing to re­store it. They later paint­ed the ex­te­ri­or and built a lean – to to cover it and a deck around it. It sits right at the edge of their lake house (on Echo Lake, at Harrison Mills). Susan says "at least close to water if not in it."
Throughout the U.S. Prohibition years, there were two dif­fer­ent ways that Canadian rum run­ners car­ried out their op­er­a­tions in south­ern British Columbia wa­ters. The bulk of the trade in­volved a va­ri­ety of Canadian small ves­sels de­liv­er­ing up liquor or­ders to American boats. This took place in a gen­er­al­ly safe man­ner with­in B.C. wa­ters such as Haro Strait which the Victoria Daily Colonist of the day de­scribed as filled with small is­lands serv­ing as "Oases of Scotch in a Sea of Saltwater". The other method en­tailed tak­ing on a high level of risk by de­liv­er­ing up booze di­rect­ly onto Washington State beach­es which was oth­er­wise de­scribed as 'jump­ing the line.'
One mariner who proved par­tic­u­lar­ly adept at this very lu­cra­tive un­der­tak­ing was Johnny Schnaar. After haul­ing liquor out of Victoria's Inner Harbour for Fred Kohse in the ini­tial years of the trade, Schnaar soon fig­ured that he'd prob­a­bly do even bet­ter with a boat of his own. Right up until Prohibition fi­nal­ly ended in December 1933, Johnny de­signed and had built five fast wood hull shore boats. The fourth one built in the boat­yard of Tomotaro Yoneda on Chatham Street, Victoria, was the 45 foot 8 inch­es long Kitnayakwa which was pow­ered by two high speed Lee gas en­gines ca­pa­ble of de­liv­er­ing 1,036 horse­pow­er to her twin screws, which were good for up to forty knots. What was amaz­ing is that some 91 years after her launch­ing in Victoria in 1928, the Kitnayawka is still with us.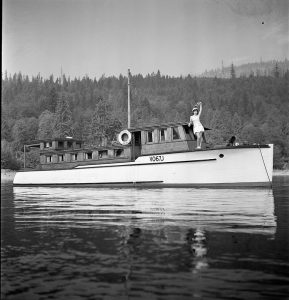 Following the end of the pro­hi­bi­tion years in December 1933, the own­ers of the rum trade's fleet of boats had to look for other pur­suits in order to keep them work­ing or just sell them off. As it hap­pened, a num­ber of fast run­ners were turned into love­ly yachts, one being the Kitnayakwa. Sometime around 1938, Gordon Kilpatrick, who was liv­ing out at Point Grey in Vancouver at the time, bought her and she be­came his family's yacht "Kitty". Then when his son mar­ried in 1945, the young cou­ple lived aboard her for a year until they could have a house built ashore. Mr. Kilpatrick sold her off some­time in the late '40s and many years later she fi­nal­ly ended up in the hands of Susan Ben-Oliel and her husband.